Community
The Center's aim is to foster an atmosphere where true innovation and a sense of pride in community flourishes. To this end, the Center has undertaken two projects.
Community Systems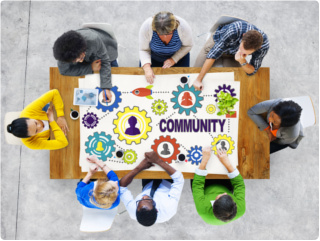 The first project of ICIS, Community Systems project, began in February 2011. The objective of this research experiment was to explore how a community of artists, health educationists, business entrepreneurs and consumers would support each other in providing their services and build a better society. The participants included artists of different types including a stone sculpting teacher and his students, Yoga teacher and her students, Tai Chi teacher and his students, startup technology business owners, pharmaceutical business owner, photography enthusiasts etc. The project ran for eighteen months and we learned how two seemingly disparate services could support each other in a co-existing environment if sufficient avenues of cooperation are opened for them.
This project ended on July 31, 2012. We thank all members of the community who participated in the research experiment. We hope that the participating members learned valuable lessons from this project and we wish them succes in all future endeavors.
VA SHIVA Innovation Corps
VA SHIVA INNOVATION CORPS™
is a movement founded by Dr. V.A. Shiva Ayyadurai to develop innovative thinking and entrepreneurship among high school students in inner cities and villages across the globe, with the support of local philanthropists, professionals and businesses. VA SHIVA INNOVATION CORPS aim to provide support to high school students across the globe that will help them to develop their ideas into practical businesses. With the cooperation of local philanthropists, professionals and businesses, selected students will receive advice, everyday practical help and financial support in setting up their business. Guidance in the areas of legal, marketing, book keeping and financing matters are some of the support the student will receive through VA SHIVA INNOVATION CORPS.
Members of the Community Program
Dharma Voyage, Tai Chi Training
Edward Chung, Photography
Novatein Biosciences, Pharmaceutical
Scott Cahaly (website), Scott's Stone Carving Classes (class details)
Viztu Technologies, 3D Imaging
Partners
ICIS is establishing partnership with the following local universities to work on integrative systems projects:
Undergraduate Practice Opportunities Program, MIT
Program in Placebo Studies and Therapeutic Encounter, hosted at Beth Israel Deaconess Medical Center
North Eastern University Cooperative Education Program
Boston University Off-Campus Work-Study Program