Our Center provides research, education and outreach programs to explore complex systems such as Innovation, Food, Communications, Elections, and Healthcare. We run regular educational seminars and workshops to enable Systems Thinking. We identify and support youth who demonstrate their ability to innovate integrating multiple systems: product development, business and customer service.
Research
The main research goal at the International Center for Integrative Systems is to explore & develop new methodologies in the areas of Media & Telecommunication Infrastructure, Arts, Art Forms & Culture, Healthcare, Transportation Systems and Innovation & Governance Systems and Election & Voting Systems.
The International Center for Integrative Systems believes in a shared set of resources that our community of researchers can use to advance research quicker rather than each researcher competing and reinventing resources for themselves. To this end, we have created and developed resources that are necessary for any researcher to advance their scientific work.
Featured Publication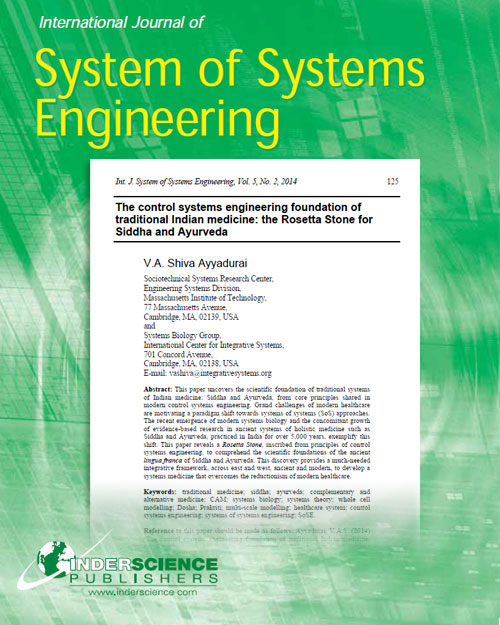 A breakthrough paper that conclusively validates the scientific foundation of Ayurveda and Siddha, based on modern control systems engineering, has been published in the International Journal of Systems of Systems Engineering (IJSSE), an eminent peer-reviewed international systems engineering journal. The paper's research findings were presented at Sages & Scientists Conference in Carlsbad, California USA.
The paper entitled The Control Systems Engineering Foundation of Traditional Indian Medicine: The Rosetta Stone for Siddha and Ayurveda, which is accessible in Open Access format from Inderscience Publisher (and available below), begins:
"This work uncovers the scientific foundation of traditional systems of Indian medicine: Siddha and Ayurveda, from core principles shared in modern control systems engineering. The discovery provides a much-needed integrative framework to develop a systems medicine that overcomes the reductionism of modern healthcare." (Source: V.A. Shiva Ayyadurai, Title of the Journal, 2014)
Eminent systems scientists and medical researchers are hailing the paper as a fundamental and seminal contribution to the field of integrative medicine and systems science.
Standards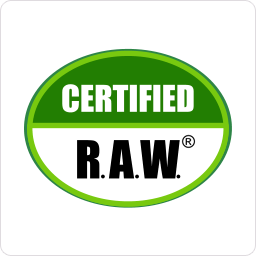 The Certified R.A.W.™ symbol is an assurance to consumers that a product has been verified to be
Real
and 100% safe and non-GMO, must be
Alive
, the ingredients must have a high amount of bio-available enzymes, and must be
Whole
and minimally processed with a high ANDI nutrient score.